Green Dolphin Camping and Green Village Resort are more than just hotel establishments.
We are a community of people who are passionate about the Danube Delta and about providing our guests with an unforgettable experience.
Originally built to host the Anonimul Film Festival, we have since become a popular tourist destination. We are committed to preserving the Delta's natural beauty and authenticity, and we reinvest everything we earn into the business, our employees, and the community.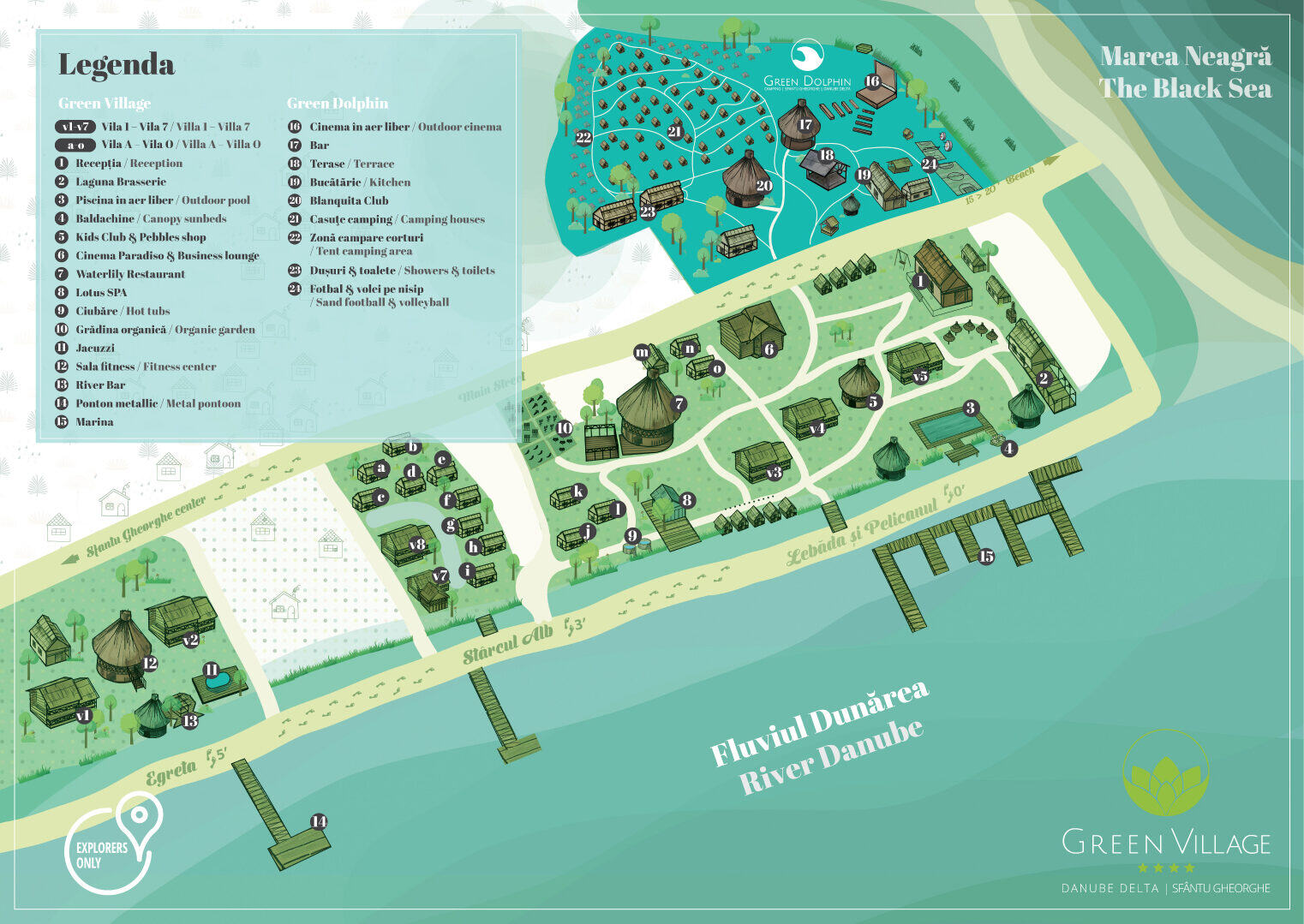 POTI ACHITA CU VOUCHERE DE VACANȚĂ
Rezervă-ți un sejur și bucură-te de spectacolul oferit de Delta Dunării!
* Conform reglementării în vigoare în ceea ce privește plata unui sejur cu vouchere de vacanță,
nu este posibilă returnarea acestora după rezervarea fermă și nici restituirea contravalorii în bani.
Health and Safety Guidelines
Avoiding Sunburn:

We all love the sun – however, during your stay with us, always use high-factor sunscreen, wear sunglasses, and wide-brimmed hats to protect yourself from strong sunlight. In case of sunburn, apply an after-sun gel or cream and drink plenty of water for hydration.
Ensuring Hydration:

On hot days, it's essential to stay properly hydrated. Drink water regularly and try to avoid excessive alcohol consumption, which can lead to dehydration.
Eye Drops:

If seawater or sand gets into your eyes and causes irritation, rinse them with clean water and use eye drops to soothe your eyes.
Digestive Issues:

Avoid consuming food that has been exposed to the sun for too long or food that isn't thoroughly cooked. Keep food at appropriate temperatures and wash your hands thoroughly before eating.
Insect Bites:

Use insect repellent and wear long-sleeved clothing during evenings when insects are more active. In case of insect bites, clean the affected area and apply an anti-itch cream or a local antihistamine.
Medical Emergencies:

Should you or your loved ones require medical assistance, please immediately contact the Reception staff. Dial the emergency number 112 and be prepared for any medical situation. Safety and health are paramount for you to fully enjoy your experience at Dolphin Camping, so we will assist in any way possible.
Medications:

If you take medications regularly, don't forget to have them with you and store them at the proper temperature. Let us know beforehand if you need any type of assistance or special conditions for storing your medication.
This regulation aims to ensure a pleasant and comfortable experience for all tourists and visitors of Green Dolphin Camping. Therefore, all tourists are kindly requested to adhere to the following house rules:
We love turning guests into family so typically, we work together to maintain our environment as natural as possible and keep Green Dolphin Camping a pleasant place for all guests.